Beyond Yourself
GrEAAns
Sale price Price $44.99 Regular price
Tired of bland, gritty tasting Greens? How about a Greens so smooth you'll think it's a healthy juice and on top of that, contains a full dose of EAAs?
The new GrEAAns is the ONLY Superfood Greens and Vegan EAA formula in the market! Every ingredient is specifically chosen to help support optimal health and performance!
Key Benefits
Increases energy, recovery and overall health

Detoxifies your body, balances pH and strengthens immune systems.

4000mg Greens blend
2625mg Vegan EAAs
Three delicious flavours
Super green foods, plant oils, phytonutrients, herbs, extracts and botanicals
Nutrient equivalent of 8+ servings of fresh vegetables
Specifically formulated for performance
RECOMMENDED USE
For Adults only. Adults: Take 1 scoop 1 time a day. 1 scoop = 11,53 g. Mix product well in 1-2 cups of liquid (water, juice, etc.) immediately before consumption. Consume no later than 90 minutes after exercising. Take it with food. Take 2 hours before or after other medicines.
Customer Reviews
16/09/2020
I recommend this product
GrEAAns
Love this product. Doesn't taste like greens. Even my husband likes it
Teresa R.
Canada
19/08/2020
Good Greans
Best tasting GREAANS I have ever had! I can't believe you came out with a mint chocolate flavour! A new fav for sure
Brianna W.
Canada
05/08/2020
Yummy
One of the best blends
Sarah W.
Canada
30/07/2020
Greaans is greaat!
Great energy spike and best flavour around for this type of product.
Simer S.
Canada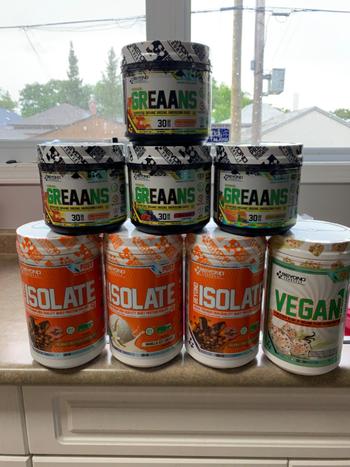 25/07/2020
100% best way to start your day!!
I use this product every morning to kickstart my day and get in my vitamins and nutrients, also awesome for post workout and refuelling your body! Definitely check them out!!
Brant V.
Canada